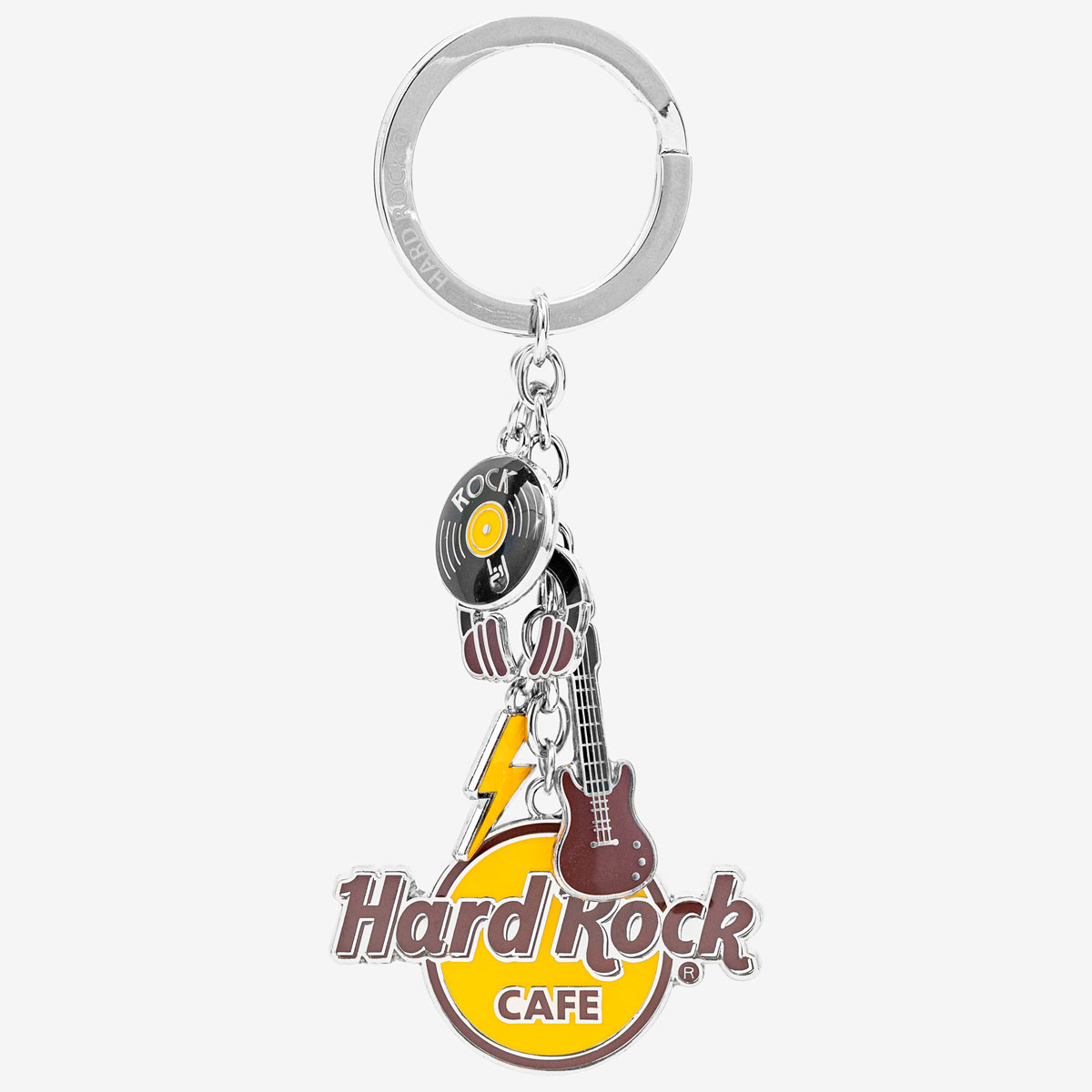 Hard Rock Cafe Logo Keychain with Music Inspired Charms
Introducing the ultimate symphony of style and music: the Hard Rock Cafe Logo Keychain with Music Inspired Charms. With iconic Hard Rock logos and a lineup of musical-inspired charms, this keychain isn't just an accessory; it's a declaration of your devotion to the rhythm of life.
Featuring music inspired charms, including:
a vinyl record in black noir
headphones
lightning volt
guitar
Let the charms jingle, let the logo shine, and let the world know that your heart beats to the rhythm of rock 'n' roll.
Size specs: 2.75" in length excluding loop key ring
🎸 Musical Medley: This keychain boasts a collection of charms that resonate with the heart of a music lover. From a black vinyl record that spins nostalgia to a lightning bolt that strikes a chord of excitement, every charm adds a note of uniqueness.
🎧 Headphone Harmony: Tune in to your groove with the charm that doubles as a pair of headphones. It's not just a keychain; it's an ode to the beats that move you.
⚡ Electrifying Aesthetic: The Silvertone hardware shines like the spotlight on a stage. It's a visual spectacle that doesn't just reflect light; it radiates your love for rock 'n' roll.
🔑 Double the Fun: With a logo on both sides, this keychain is like a backstage pass to your personal concert. Whether it's attached to your keys or bag, it's a reminder that rock 'n' roll isn't just a genre – it's a way of life.
🎶 Legendary Legacy: Just like Hard Rock itself, this keychain carries a legacy that spans generations. It's a connection to the classics, the anthems, and the magic of live music.
🎁 Gift of Groove: Searching for the perfect present for your fellow music enthusiast? This keychain is a harmonious gesture that'll hit all the right chords, whether it's a birthday, holiday, or spontaneous gift-giving.
🌟 Rock 'n' Roll Spirit: Let this keychain be your companion as you navigate life's playlist. It's not just about keys; it's about carrying the spirit of rock wherever you go.